MODEL A FORD
Data Plates
---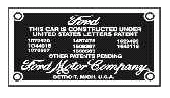 PATENT PLATE -- Aluminum silk screened data plate with the U-drive rivets.
A-18650 1928-31 Patent ea. 2.50
---

BODY PLATES -- Same as original plates for the Fordor Sedans and Cabriolets. Includes the U-drive rivets.
A-18651 Briggs bodies ea. 2.00
A-18652 Murray bodies ea. 2.00
---

MURRAY PLATE -- Plate fits on the lower cowl.

A-18653 1928-29 Murray ea. 7.95
---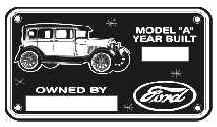 OWNERS PLATE -- Personalize your car with this beautiful brass plate with spaces to engrave your name & year of car.
A-18653-OP 1928-31 ea. 8.95
---

DRIVE RIVETS -- Drive rivets for the data and body plates.
A-18650-RK 1928-31 set 1.50
---

Little Dearborn Parts, Inc 2424 University Avenue Minneapolis, MN 55414
Toll Free: 1-888-282-2066 Phone: 612-331-2066 Fax: 612-331-3847
Copyright © 2001 - Little Dearborn - All Rights Reserved