F-Series Truck
Engine Parts
12-18
---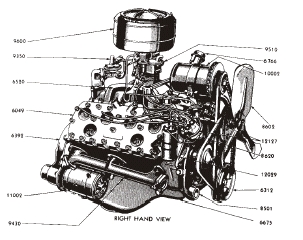 Rebuilt Short Block Assembly - V-8 292 -- Consists of block, pistons, rings, rods,
crankshaft & bearings, camshaft & bearings, lifters, timing chain & gears. Exchange must be rebuildable.
1958-64 outright ea. 1,975.00
---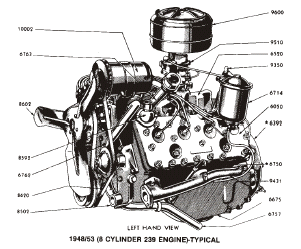 NOTE: All engines are rebuilt by our own professional who has experience dating back to when these motors were new. We are confident that you will be satisfied with the quality work that goes into each individual motor.
Rebuilt Short Block Assembly - V-8 1948-53 ea. 2,500.00
---
8BA-6008 Overhaul Gasket Set - V-8 239 1948-53 ea. 85.00
---
7HA-6008 Overhaul Gasket Set - 6 cylinder 226 1947-51 ea. 115.00
---
B2A-6008-A Overhaul Gasket Set - 6 cylinder 215 1952-53 ea. 115.00
---
B2A-6008-A Overhaul Gasket Set6 cylinder 223 1954-64 ea. 87.50
---

B6A-6008 Overhaul Gasket Set - V-8 256, 272 1954-64 ea. 80.00
---

B4A-6008 Overhaul Gasket Set - V-8 292 1957-64 ea. 80.00
---
8BA-6051 Head Gaskets - Right Side - V-8 1948-53 ea. 22.95
---

8BA-6083 Head Gaskets - Left Side - V-8 1948-53 ea. 22.95
---
B6A-6051-B Cylinder Head Gaskets - steel 8 cylinder 272, 292 1956-64 pr. 15.00
---

C3TZ-6051-G Cylinder Head Gasket - asbestos & steel 8 cylinder 272, 292 1956-64 ea. 15.00
---
B7AZ-6079-D Valve Grind Gasket Set 8 cylinder 272-292 1956-64 set 40.00
---
B2AZ-6A506-A Rocker Arm Cover Gasket Set 6 cylinder 215, 223 1952-59 set 12.00
---
B4AZ-6A506-A Rocker Arm Cover Gasket Set8 cylinder 1954-59 set 12.50
---
8BA-6521 Intake Manifold to Block Gasket V-8 1948-53 ea. 12.00
---
8BA-6710-B Oil Pan Gasket Set - V-8 1948-53 ea. 15.00
---
COAZ-6710-B Oil Pan Gasket Set - V-8 OHV 272 1955-5 ea. 18.00
---

COAE-6710-A Oil Pan Gasket Set - 6 cylinder OHV 215 1952-53 ea. 12.00
---
6 cylinder - OHV 223 1954-56 ea. 12.00
---
7HA-6710 Oil Pan Gasket Set - 6 cylinder "H" Series 1947 ea. 22.95
---
7HA-6710 Oil Pan Gasket Set - 6 cylinder - 226 1948-51 ea. 22.95
---
7HA-6710 Oil Pan Gasket Set - 6 cylinder - 254 1950-53 ea. 22.95
---
DF-64 Oil Filter Decal - V-8 1948-53 ea. 3.00
---
EBU-9433 Intake Manifold Gasket Set 8 cylinder 239 1954 set 8.00
---
B7AZ-9433-A Intake Manifold Gasket Set 8 cylinder 272-292 1955-64 set 9.50
---
CRANKCASE BREATHER SCREEN -- Fits 239, 272, & 312

B2TZ-6A631-A Crankcase Breather Screen 8 cylinder 1954-56 ea. 6.50

---
C1TE-6571-C Valve Guide and Valve Stem Seal 6 cylinder 215, 223 1952-64 ea. 2.00
---
C1TE-6571-C Valve Guide and Valve Stem Seal 8 cylinder 239, 256, 272, 292 1954-64 ea. 2.00
---
C1TE-6571-SET Valve Guide and Valve Stem Seal set of 16 - 8 cylinder 239, 256, 272, 292 1954-64 set 30.00
---
EBU-6575-A Valve Rocker Arm Oil Outlet Tube Bracket - 8 cylinder 239, 256, 272, 292 1954-64 ea. 4.00
---
B5A-6588-A Valve Rocker Arm Shaft Oil Outlet Tube - 8 cylinder 239, 256, 272, 292 1954-64 ea. 10.00
---
VG-6510 Special Tool Bar to Remove Valve Guide 1932-53 ea. 40.00
---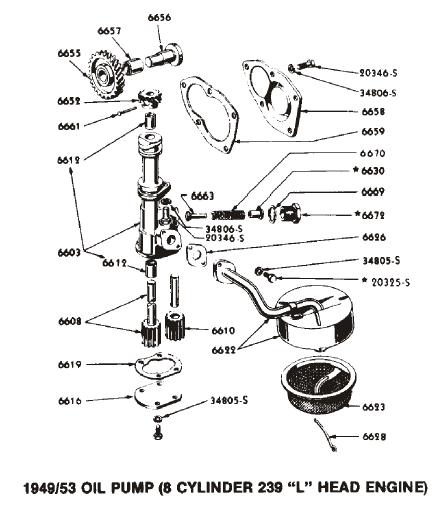 8BA-6621 Oil Pump Assembly - New - V-8 1948-53 ea. 139.00
---
COAE-6600-D Oil Pump Assembly - New - V-8 239, 256 1955-60 ea. 70.00
---
EBZ-6622-B Oil Pump Screen, Tube & Cover Assembly - 8 cylinder. 256 1954-55 ea. 30.00
---
41A-6623 Oil Pump Pickup Tube Screen V-8 1948-64 ea. 17.50
---
8RT-6615 Oil Pump Pickup Tube V-8 1948-53 ea. 28.95
---
8RT-6049 Cylinder Head - Right Side - V-8 NEW OLD STOCK 1948-53 ea. 70.00
---
8RT-6050 Cylinder Head - Left Side - V-8 NEW OLD STOCK 1948-53 ea. 70.00
---
8RT-6049-PR SAVE: Buy a pair 1948-53 pr. 135.00
---
C3TZ-6O49-G Cylinder Head - Replacement 8 cylinder 272, 292 1956-64 Must use COME-65O7-N Intake Valves with this head ea. 225.00
---
59A-6055 Cylinder Block Sleeve - 3.373 OD x 3.156 ID x 6 1/2" long For 3 3/16" bore - rough finish - used with cylinder blocks without milled depression between valve port
and cylinder 1948-53 ea. 25.00
---
CYLINDER HEAD BOLTS

8BA-6065 Cylinder Head Bolts - 20 per Engine 1.94" long - V-8 1948-53 ea. 1.85
---
8BA-6066 Cylinder Head Bolts - 28 per Engine 2.26" long - V-8 1948-53 ea. 1.85
---
C.H.N. Chrome Cylinder. Head nut Covers 1948-53 set 29.95

---

Little Dearborn Parts, Inc 2424 University Avenue Minneapolis, MN 55414
Toll Free: 1-888-282-2066 Phone: 612-331-2066 Fax: 612-331-3847
Copyright © 2001 - Little Dearborn - All Rights Reserved