Ford Passenger - V8
Ford Book & Literature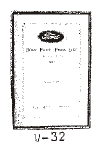 ---
OWNERS MANUALS

V-18 Owner's manuals-4 cylinder 32-34 ea. 10.00
---
V-19 Owner's manuals-V/8 32-33 ea. 10.00
---

V-Il Owner's manuals 1934 ea. 10.00
---

V-17 Owner's manuals 1936 ea. 10.00
---

V-20 Owner's manuals 1937 ea. 10.00
---

V-21 Owner's manuals 1938 ea. 10.00
---

V-22 Owner's manuals 1939 ea. 10.00
---

V-16 Owner's manuals 1940 ea. 10.00
---

V-23 Owner's manuals 1941 ea. 10.00
---
V-42 Owner's manuals 1942 ea. 10.00
---
V-46 Owner's manuals 46-47 ea. 10.00
---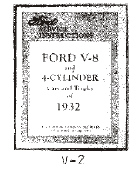 SERVICE BULLETINS
V-2 Service bulletins 1932 ea. 16.00
---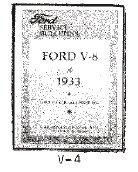 V-4 Service bulletins 1933 ea. 16.00
---
V-6 Service bulletins 1934 ea. 16.00
---

P-10 Service bulletins-complete, hard bound 32-37 ea. 42.00
---
P-11 Service bulletins-complete, hard bound 38-40 ea. 42.00
---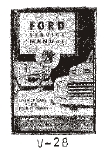 P-12 Service bulletins-complete, hard bound 41-48 ea. 42.00
---
PAINT MANUALS
RMB Paint manuals for early Fords 28-36 ea. 35.00
---
V-2567 Paint manuals for early Fords 37-48 ea. 35.00
---
ENGINE AND CHASSIS REPAIR MANUALS
V-13 V-8 engine & chassis repair manual 32-36 ea. 24.00
---
V-14 V-8 engine & chassis repair manual 37-38 ea. 24.00
---
V-15 V-8 engine & chassis repair manual 39-40 ea. 24.00
---
LC11 The complete Ford owner's handbook of repair & maintenance-Covers all models 1932-1955, including V8-60-Explains many repair and tune-up jobs-Includes wiring
diagrams, specification tables, and many exploded line drawings. 224 pages and 246 illustrations 32-55 ea. 15.00
---
LV97 Sales brochure/New Ford V-8-Shows all passenger car models and features Full color wall poster. 17"x22" 1932 ea. 7.00
---
LV98 A great new motor car 1932-Shows all passenger models, features and specifications in depth 24 pg full color book. 1932 ea. 6.00
---
LV99 Sales brochure/Commercial 1933-Shows all trucks, panels and wagons and features fold out-Full color-16"x22" 1933 ea. 7.00
---
LV100 Sales brochure for 1933-Shows all passenger model body styles and features Fold out-Full color-18"x28 1933 ea. 8.00
---
LV101 Approved accessories for 1933-Shows genuine Ford accessories-3 color-fold out-6"x 17" 1933 ea. 8.00
---
LV102 Sales brochure/Commercial for 1933-Shows all trucks, panels and wagon body styles and features-3 color-Fold out-18"x22" 1933 ea. 8.00
---
LV103 New Ford V-8 for 1933-Booklet explains the new features for 1933 as well as engine specifications & improvements. 12 pages in black& white. 1933 ea. 8.00
---
LV104 New Ford V-8 for 1934-Shows all passenger models with features and specifications Fold out wall poster-18"x23" 1934 ea. 8.00
---
LV105 Approved accessories for 1934-Pictures all the genuine Ford accessories for 1934. 2 color Fold out-10"x12" 1934 ea. 8.00
---
LV106 Sales brochure/Commercial for 1934-Shows all trucks, panels and wagon body styles and features-Fold out 10"x29"-B&W 1934 ea. 8.00
---
LV107 Sales brochure for 1935-Shows all passenger body styles and features-16 pages in full color 1935 ea. 8.00
---
V108 Approved accessories for 1935-Shows genuine Ford accessories-2 color-Fold out-I0"x19" 1935 ea. 8.00
---
LV109 Sales brochure for 1936-Shows new features & details - 20 pages in2colors 1936 ea. 8.00
---
LV110 Approved Accessories for 1936-Shows genuine Ford accessories-2 color-Fold out-12"x19" 1936 ea. 8.00
---
LV111 Sales brochure/Commercial for 1936-Fold out style Shows all truck styles-i l"x25" in 2 colors 1936 ea. 8.00
---
LV112 Sales brochure for 1937-Shows all passenger models and explains features of them-20 pages in full color 1937 ea. 8.00
---
LV113 1933 Ford Restorer's guide-Ford 4 and 8 cylinder guide on interior, exterior and mechanical servicing. Contains detailed charts and diagrams. Has chassis
specifications and individual body style specifications-29 pages and 15 illustrations 1933 ea. 7.00
---
FORD COLOR PRINTS
Finally some truly beautiful prints of MADE IN AMERICA CARS. The following list of full color prints are from original paintings by Ford
Motor Company illustrator, Dom Pacitti. Perhaps you have seen his detailed and colorful work at Hershey and Reno. Now you can have
these prints of original paintings and save dollars by do-it-yourself framing. A conversation piece for office or den - a joy to behold on any wall.
---
LCPB35 Deluxe Phaeton (B35) 12"x18 1932 ea. 7.00
---
LCPB40 Deluxe Roadster (B40) 12"x18 1932 ea. 7.00
---
LCPB45 5 Window Coupe (B45) 12"x18" 1932 ea. 7.00
---
LCPB50 Sport Coupe (B50) 12"x18" 1932 ea. 7.00
---
LCPB55 Cabriolet (B68) 12"x18" 1932 ea. 7.00
---
LCPB150 Station Wagon (B150) 12"x18" 1932 ea.7.00
---
LCPBI60 Fordor Sedan (B160) 12"x18" 1932 ea. 7.00
---
LCPB190 Victoria (B190) 12"x18 1932 ea. 7.00
---
LCPB400 Convertible sedan (B400) 12"x18 1932 ea. 7.00
---
LCPB520 Deluxe 3 Window Coupe (B520) 12"x18 1932 ea. 7.00
---
LCP68-700 Tudor and Touring Sedan (68700) 12"x18" 1936 ea. 7.00
---
LCP68-710 Roadster (68-710) 12"x18" 1936 ea. 7.00
---
LCP68-730 Fordor Sedan (68-730) 12"x18" 1936 ea. 7.00
---
LCP68-770 Deluxe 5 Window Coupe (68-770) 12"x18 1936 ea. 7.00
---
LCP66B Convertible Club Coupe (66B 12"x18" 1940 ea. 7.00
---
LCP67B Deluxe Business Coupe (67B) 12"x18" 1940 ea. 7.00
---
LCP70B Deluxe Tudor Sedan (70B) 12"x18" 1940 ea. 7.00
---
LCP73B Deluxe Fordor Sedan (73B) 12"x18" 1940 ea. 7.00
---
LCP79B Deluxe Station Wagon (79B) 12"x18" 1940 ea. 7.00
---

Little Dearborn Parts, Inc 2424 University Avenue Minneapolis, MN 55414
Toll Free: 1-888-282-2066 Phone: 612-331-2066 Fax: 612-331-3847
Copyright © 2001 - Little Dearborn - All Rights Reserved