Ford Passenger - V8
Top Materials
---

B-7651562 Top irons to door glass seal I" wide x 30" long 32-39 ea. 6.00
---
O1A-7651562 Top irons to door glass seal 3/4" wide x 30" long 37-48 ea. 6.00
---
18-7651560-SS Stainless channel to hold #B-765 1562 and #68-740928-PR 1" wide x 30" long 32-39 ea. 15.00
---
O1A-7651560-SS Stainless channel to hold #01A7651562 37-48 ea. 15.00
---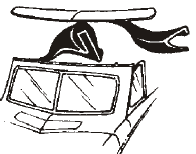 40-7651312 Header bow seal-Cabriolet 33-34 ea. 12.50
---
48-7651312 Header bow seal-Cabriolet & convertible sedan 35-36 ea. 8.00
---
78-7651312 Header bow to windshield seal-Convertible 37-40 ea. 8.00
---
78-711304 Convertible header bow bumpers-Set of four 37-40 ea. 8.00
---
11A-7651312 Convertible header bow seal on windshield 41-48 ea. 6.50
---
11A-7651330 Convertible header bow seal on bow-Ford & Mercury 41-48 ea. 6.50
---

21A-7630106/7 Convertible quarter window front edge seal 42-48 ea. 24.00
---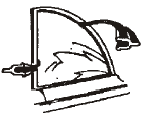 21A-762232 Convertible quarter window frame seals 42-48 ea. 7.50
---

68-740928/9 Convertible W/S Post to door rubber seal 35-39 ea. 20.00
---
01A-740928/9 Convertible W/S Post to door rubber seal 1940 ea. 20.00
---
For all closed cars. Tough durable long grain black material that looks and feels like the original.
47319-R Top material-Approx. 64" wide Per foot 28-36 ea. 7.50
---
TD Top dressing-Special paint covers fabric top material-l qt ea. 6.50
---
A-36235 Black hiddum welt-For attaching cloth top to wooden top frames Sold per foot ea. .40
---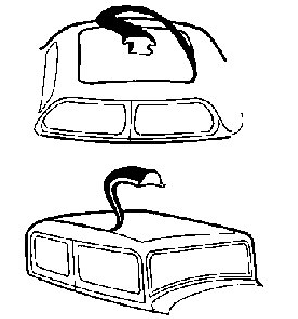 48-7050920-A Roof seal-Coupe 35-36 ea. 10.00
---
48-7050920-B Roof seal- Sedan 35-36 ea. 26.00
---
48-7050920-C Roof seal-Sedan delivery 35-36 ea. 31.00
---
B-7050920 Roof tack strip seal Closed cars only 32-34 ea. 24.00
---

An aluminum molding that is nailed down over the top material. The roof seals listed above slip into the molding. Comes in a 70" straight length.
B-705019 Top material retainer molding 1932 ea. 19.00
---
40-705019 Top material retainer molding 33-34 ea. 19.50
---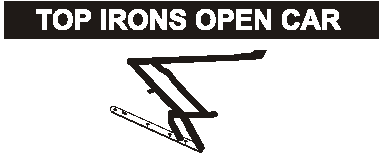 1932 Roadster - Painted 595.00
---
1932 Roadster - Stainless Steel 950.00
---
1932 Cabriolet-SS 2400.00
---
1933-34 Roadster-SS 1100.00
---
1933-34 Phaeton-SS 1750.00
---
1933-34 Cabriolet-SS 2150.00
---
1935-36 Roadster-SS 1100.00
---
1935-36 Phaeton-SS 1895.00
---
1935-36 Cabriolet-SS 2600.00
---

Little Dearborn Parts, Inc 2424 University Avenue Minneapolis, MN 55414
Toll Free: 1-888-282-2066 Phone: 612-331-2066 Fax: 612-331-3847
Copyright © 2001 - Little Dearborn - All Rights Reserved